Pivotel's satellite telecommunications services utilise three types of satellite networks
- Low Earth Orbit, Medium Earth Orbit and Geostationary.
Types of satellite networks
All of Pivotel's satellite services operate on Low Earth Orbit (LEO), Medium Earth Orbit (MEO) or Geostationary (GEO) satellite networks.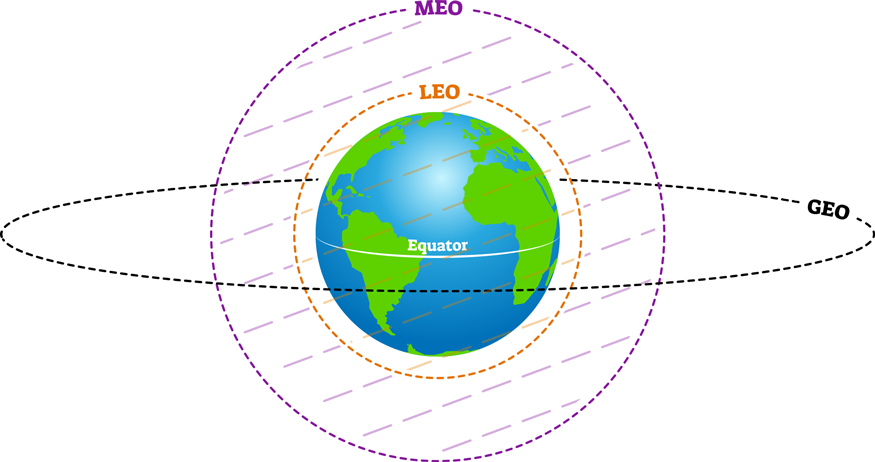 Low Earth Orbit (LEO) and Medium Earth Orbit (MEO) Satellite Networks
Low Earth Orbit (LEO) and Medium Earth Orbit (MEO) satellite networks are made up of a constellation of small satellites that orbit the Earth in a series of planes. In each plane a number of satellites follow each other as they orbit the Earth, and the planes run parallel to each other to provide the radio coverage that is used for the services.
The pattern of earth orbiting satellite networks mean that the individual satellites in the constellation are constantly moving relative to the Earth's surface. From most locations it is possible to see one or more LEO/MEO satellites at any time. On occasion the signal path to the satellites may be blocked by physical barriers such as buildings or mountains, however, because the constellation is always moving the satellites often move out from behind the physical barrier after a few seconds or minutes, providing a clear path between the user terminal and the satellite.
LEO/MEO satellite networks are often well suited to mobile applications, where you need to use the service while on the move. LEO/MEO external antennas used on vehicles, vessels and aircraft are generally smaller and less expensive when compared to Geostationary satellite antennas.
LEO satellites sit between 800 and 1,400 km from the Earth's surface, while MEO satellites sit between 2,000 and 35,000 km away from the Earth's surface. 
Pivotel products that use LEO satellite networks include all Iridium, Globalstar and OneWeb satellite solutions. Pivotel products that use MEO satellite networks include all SES O3b MPOWER satellite solutions.
Geostationary (GEO) Satellite Networks
Geostationary satellite networks utilise a small number of satellites, and each satellite provides coverage to a fixed area of the Earth. Geostationary satellites are generally located above the equator and follow the Earth's orbit which means each Geostationary satellite stays in the same place relative to the Earth's surface.
Geostationary satellites are generally larger and require more power than LEO or MEO satellites as they cover a much larger area of the Earth's surface.
Geostationary satellites generally have superior data bandwidth, but since the satellites are around 35,000 km above the Earth's surface they often experience greater latency or voice delay when compared to LEO and MEO satellites. When using Geostationary satellite phones and terminals in a mobile environment it is preferable to have a high elevation angle, as the terminal works better closer to the centre of the coverage area.
If you require the data bandwidth of a Geostationary satellite service as well as mobility, there are sophisticated antenna options available.
Pivotel products that use GEO satellite networks include all Inmarsat, Thuraya, Intelsat and nbn™ satellite solutions.
*Service suspension available on selected plans only. Terms and conditions apply.

Standard Australian '04' mobile numbers
Easier to use and more affordable to call

Callers to you pay standard mobile rates
Calls are often FREE from unlimited phone plans

One network - multiple satellite technologies
More choices for a solution that meets your needs

Seasonal service suspension
Suspend your service when you're not using it*

Control your costs with email and SMS notifications

Locally based Customer Support
One-call customer service on all Pivotel services

The Iridium satellite network provides robust, reliable, global voice and data connectivity.

The Inmarsat satellite network provides reliable, near-global voice and data connectivity.

The Thuraya satellite network provides cost-effective voice and data connectivity across Australia.

The Starlink satellite network provides high-speed, low-latency internet services on land or at sea.

The OneWeb satellite network provides fast, high-bandwidth, low-latency internet services worldwide. 

The Intelsat satellite network provides secure, high-speed internet services when and where you need it.

business nbn™ Satellite Service
The nbn™ business Satellite Service provides business-grade internet services to rural and remote Australia.

Pivotel's wireless networks are designed to meet the connectivity requirements of a property or region.

O3b mPOWER is SES's next-generation non-geostationary (NGSO) constellation.

The Globalstar Simplex satellite network provides a low-cost data service with coverage across Australia.

Do you want to know more about a Pivotel service plan, product or solution?
Ask our friendly Customer Care team here.

Find your local Pivotel Dealer
Did you know that we have a nationwide dealer network of over 160 dealers?
Find your local Pivotel critical communications expert here.